Happy Valentine's Day!!!
Well, here it is upon us! Luckily I had my ducks in a row and have my Valentine's made!
This is not always the case,
So, for those of you who may be looking for last minute ideas (because that is sometimes me) I wanted to share these cute, simple, ideas!
Cupcakes, cookies, pancakes, etc.
Pick one to whip up for your sweeties to make Valentine's a little extra special with something homemade...
Cupcakes with festive red, pink, and white swirl icing have Valentine's Day written all over them.
So, if you are going to still make something last minute this is totally do-able.


Make cupcakes, cheat and use out of the box (it is ok, it is last minute) I would suggest Devils Food mix

Make homemade buttercream icing (or you can cheat here again, but I just prefer to whip up some homemade, it is easy and tastes WAAAAYYY better)
While cupcakes are cooling divide icing into three bowls and leave one bowl white, tint one red, and one pink. (you only have to have red food coloring for this just add one drop of red to make pink and then add several drops to make the red, if you have pink food coloring this is even better, but not a must!)
Then put all three icings in a ziploc baggie (or decorator bag) side by side in the bag.
Don't worry if it mixes some or you end up getting it everywhere (this kind of happens) This is the fun of it, mixing to see what kind of swirl you can create!
Snip the corner of the bag and decorate those cupcakes!!
You can also put some in a heart shape like this,
This heart's for you!

If you are still wanting to make cookies then I suggest chocolate sugar cookies because they stand out on their own.
If you make regular sugar cookies at this point it would be hard to decorate them with a glaze or icing and have time to set up so, chocolate cookies are perfect for last minute.
Very dramatic and easy to decorate and they still say "Wow!"
If you have multiple heart cookie cutters play around and cut shapes within shapes, stack them and sandwich nutella or regular icing in between them, mmmm..
or just sprinkle some confectioners' sugar on top!
See how easy that is!!!
For breakfast, whip up some pancakes cut in a heart shape and even add red food coloring, or make them red velvet style!!!
Other easy, last minute ideas (can be made for a Valentine's day party in 30 min. or less!):
Whooo Loves you?
If you are looking for something a little more check out these other delicious ideas:
And if all else fails last minute you can always buy a box of chocolates or someone's favorite candy and present it all wrapped up!!!
It is Valentine's Day so any nice gesture will do!
But homemade is always extra special, even if it is semi-homemade!
Check out me and others over at: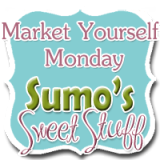 Market yourself monday!
For some other great ideas!