As featured on top ten at
Creamy and rich with a hint of strawberry, AND pink!
With Valentine's Day right around the corner this is a perfect treat to whip up for anyone...
the kids, parents, neighbors, friends, significant other.
Anyone would love to receive this treat.
And it is quick and easy to make, and my favorite part is that it is homemade candy that doesn't require a candy thermometer!
Ingredients
3 C. sugar
¾ C. butter, cut up
1 (5 oz.) can of evaporated milk
2 C. (12 oz. pkg) white chocolate chips
1 (7 oz.) jar marshmallow creme
2 tsp. strawberry extract
red food coloring
desired toppings, sprinkles, colored sugar

Directions
Line a 9 x 13 pan with foil, allowing foil to extend over edges. Coat foil with butter.Set aside.

In a 3 quart microwave safe bowl combine sugar, butter, and evaporated milk.

Microwave uncovered for 2 min., then stir.
Microwave for 5 min. and stir. Be careful and watch to be sure it doesn't bubble over, may have to stir again after 3-4 min. depending on microwave.
Microwave 2 more min.
Add chocolate chips, stirring until melted and smooth.
Add marshmallow creme and strawberry extract, stir until combined thoroughly.
Stir in a couple of drops of liquid red food coloring to tint pink.
Pour into prepared pan.
Sprinkle with desired toppings.
Cover and chill until firm, at least 1-2 hours.
Use foil to lift out of pan and cut into squares.
Store tightly covered in refrigerator for up to 1 week!
I am somewhat picky when it comes to fudge and I usually don't do a "fantasy fudge". Although, if you don't tell me I won't snub any fudge you push my way, "fantasy" or not.
If you don't know what I am talking about when I say "fantasy fudge" it is typically the fudge made with marshmallow creme. Don't know why I tend to stay away from these, especially since I am not good at making homemade fudge the old fashioned way, but I just think nothing compares to old fashioned fudge.
Guess I have grew up around too many women who can make old fashioned fudge literally with their eyes closed, no measuring cups in hand, and definitely no candy thermometer. *SIGH*ENVY*
Obviously I have high standards to live up to around here.
And if I have to whip out a candy thermometer then I am doomed. But I am trying to do better.
Having said that, this recipe is definitely what I would consider a "fantasy fudge" and I LOVE IT!
So, whip up some in 15 min. or less and share the LOVE!
and if you can't tell...
I'm Lovin' It
Check out what everyone else is lovin' this week over at Tidymom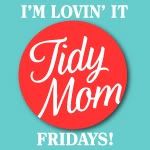 Also, being Crazy Domestic over at:
Happy Baking and Happy Valentine's Day!