Proud to say featured on:
What's a girl to do when you want something sweet in a hurry?!!!
Resort to no bake, with chocolate, and marshmallows.
Yes, I said it no bake!
A travesty I know!
I usually stray away from no bake, but desperate times, call for desperate measures and this did not fail me...
I have a new cookbook and found this tempting picture of what they call "chocolate marshmallow fingers" looking back at me and I kept reading the ingredients and all I could think about was s'mores.
It only involves a few ingredients and some heating on the stovetop,
So it was on!
I am in the mood already for St. Patty's day (in case you can't tell!)
adapted from 1001 cupcakes, cookies, & other tempting treats
Ingredients
1 ½ packs of graham crackers*, crushed in small pieces (not crumbs)
1 C. chocolate chips (plus more for below)
1 C. butter
2 T. sugar
2 T. cocoa
2 T. honey
1 C. mini marshmallows
heaping ½ C. chocolate chips
*note 1 ½ packs is referring to 14 oz box of graham crackers has three individually sealed packs of graham crackers so use 1 ½ of those packs
Line an 8 x 8 pan with foil and grease with butter.
Place graham crackers in a large ziploc bag and crush into small pieces, using hands or rolling pin.
Heat on low, 1 C. chocolate chips, butter, sugar, cocoa, and honey in a saucepan until melted, stirring until all incorporated.
Remove from heat and let cool slightly.
Stir crushed crackers into chocolate mix until well mixed and crackers are covered well in chocolate.
Add marshmallows and mix until covered in chocolate, then stir in remaining ½ c. of chocolate chips.
Spoon mixture into 8 x 8 lined and greased pan and lightly smooth top with spatula.
Chill in refrigerator for 2-3 hours or until set.
Cut into bars before serving.
I added green marshmallows and some green sprinkles to spruce it up for St. Patty's day coming up!
So this is very versatile in that you could decorate for different holidays,
The best part is that it really does taste like a s'mores so now you can enjoy this sweet treat all year long!!
Even better is that you can whip it up in 15 minutes then let it sit and just pull out it out to serve or to take to a party or have ready for the kids!
Hope you get to make your own St.Patty's Day style S'mores!!
I am sharing this recipe over at: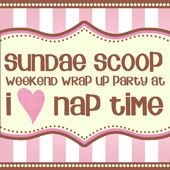 Until Next Time,