It's March 2nd Dr. Seuss
It's such an important day
Today we celebrate you
Happy Birthday we Say!
You wrote Cat in the Hat
Green Eggs and Ham
Created Horton, the Lorax,
The Grinch and Sam I am.
You wrote great stories
and a many a great rhyme
and when we read your books
we have a great time!
Happy Birthday!
This Seuss inspired party was for my daughter's first Birthday but I thought today would be the perfect day to share it and pay homage to the great Dr. Seuss on his birthday!
I hope you are inspired and throw your own Dr. Seuss party,
whether it is with a 7 plus layer hat cake
Can we say hand cramp after 1000 plus stars piped on?
or
Lots of Seuss inspired decoration
Paper pom poms
Your own Seuss Quote wall
Your own Thing 1 and Thing 2
Balloons, balloons, and more balloons
or
Seuss inspired food like
Thing 1 & Thing 2 red velvet cotton candy cupcakes
Green Eggs & Ham

A little blue food coloring to eggs does the trick!
And
add these yummy

ham delights
 or
Perhaps a Pink Yink Drink
However you celebrate I sure hope you do celebrate Dr. Seuss
Not just today but throughout the year
All the magic
of being Seussical!
Until Next Time,
Happy Birthday Dr. Seuss!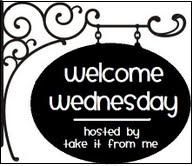 Thank you so much Jaime & Kristin for loving Sprinkles of Flavor!!!
So, Welcome Wednesday and check out what everyone has to share!
I am sharing my love for Dr. Seuss at: